Manaslu Circuit Trek Complete Guide for the better experience
Durga kc
December 11, 2019
Manaslu circuit trek is one of those trekking trails which reach over 5000 meters altitude. You will be at the height of 5167 meters which is the highest elevation we get on Manaslu Circuit Trek. You will allow exploring the three different valleys.
The Manaslu Circuit trek is one of the best treks in Nepal. It takes you around the Manaslu conservation area and leads to a breathtaking view of the eighth highest mountain in the world. If you've already been to the Annapurna circuit or Everest Base Camp or Everest high passes trek, this trek can be a great alternative for adventure junkies. It is a 15-day trek that starts at Soti Khola and ends at Beshi Sahar.
Manaslu Circuit Trek Highlights
Natural beauty of the forests, rivers, and flora in the Manaslu region.
Mountain people culture of the region which includes both Nepalese and Tibetan ethnic groups (mostly Sherpas people culture and lifestyles).
Larky La Pass (5167 meters), the highest point during the Manaslue Circuit trek.
Stunning view of some of the highest peaks in the world- Manaslu, Cheo Himal, Himlung Himal, Nemjung, Gyaji Kang, Kang Guru, and Annapurna II.
If you are lucky you will see Tahr (Mountain Goat), Agali (Blue Sheep), Pika (Highest living Mammal), Himalayan Marmots and also Snow Leopard.

Recommended Manaslu Circuit Trek Itinerary
There are several itineraries for the Manaslu circuit. 15-days Manaslu circuit trek itinerary (Kathmandu – Kathmandu) as per our recommendation for Manaslu circuit trek including one extra day for either acclimatization or side trips. If expanding trip Manaslu circuit wіth Tsum valley, it requires at least 7-days and altogether 22-days trek.
At last, we would not recommend shortening this recommended itinerary, as the time needed for walking distances as well as rest days is very crucial for health and enjoyment. Moreover, taking more days for the trek is of course, highly recommended and worthy. This is a short Manaslu Circuit Trek itinerary, allowing you to know day by day are as below.
Day 1 Kathmandu – Arughat (670m/2,198 ft) – Soti Khola (710m/2,330ft): 135km, 8-9 hrs drive
Day 2 Soti Khola – Machha Khola (890m/2,920ft)- about 14km, 6-7 hrs
Day 3 Machha Khola – Dobhan (1,000m/3,280ft)- about 11km, 6-7 hrs
Day 4 Dobhan- Philim (1,590m/5,216ft)- about 10km, 6-7 hrs
Day 5 Philim – Lokpa (2,240m/7,350ft) – Deng (5,917 feet / 1,804 m)
Day 6 Deng – Namrung (2,660m/8,725ft) - about 12km, 6-7 hrs.
Day 7 Namrung – Lho (3,180m/10,430ft- about 4km, 3-4hrs
Day 8 Lho – Sama Gaon (3,530m/11,578ft)- about 8km, 5-6 hrs
Day 9 Rest day in Sama and exploration day: Birendra Tal / Pungyen Gompa / Manaslu Base Camp
Day 10 Sama – Samdo (3,860m/12,660ft)- about 8km, 3-4 hrs
Day 11 Samdo – Larkya Phedi/Dharamsala (4,460m/14,628ft)- about 7km, 3-5 hrs
Day 12 Dharamsala – Larkya La (5,160m/16,930ft) – Bimthang (3,720m/12,201ft)- about 12km, 7-9 hrs
Day 13 Bimthang – Gho (2,515m/8,250ft)- about 12km, 5-6 hrs
Day 14 Gho – Dharapani (1,920m/6,300ft))- about 8km, 3-4 hrs
Day 15 Dharapani- Besi Sahar (760m/2,495ft) – Kathmandu (1,300m/4,264ft)
Side trips when we do acclimatization during the Manaslu Circuit Trek
Pungen Monastery- base point Shyala or Sama Goan
Birendra Lake and MBC- base Point Sama Goan.
Tibet border – Rui La- base point Samdo which is highly recommended to explore.

Manaslu Trek Permits and Logistics
The Manaslu region is declared as a restricted area while it requires having the permits for the trekking which issued by the department of immigration. However, it needs to apply through the registered trekking agency, and at least two trekkers require a group. Please visit the website of the department of immigration further information regarding the revised visa and trekking permits fees.
The Manaslu permit fee for the Autumn Season (Sept – Nov)
100 U.S. dollar per week (Additional 15 U.S. Dollar per day beyond a week).
The Manaslu permit fee for Winter, Spring, and Rainy Season. (Dec – Aug)
75 U.S. Dollar per week (Additional 10 U.S. Dollar per day beyond a week)
The Tsum Valley permit fee for autumn season (September- November)
40 U.S. Dollar per person per week and $10 per day beyond a week.
The Tsum Valley Permit fee for winter, spring, and summer season (December – August)
USD 30 per person/week USD 7 per person/day (beyond a week)
Conservation Area Permit fees
MCAP (Manaslu Conservation Area Project): 3000 NRS.
ACAP (Annapurna Conservation Area Project): 3000 NRS.
Accommodation during the Manaslu Circuit Trek
Manaslu is a tea house based trek in Nepal. You will sleep in the tea house every night which will very basic on twin sharing basis. Toilets are mostly shared and can be outside of teahouses. Heating is only available in the dining area. Foods are available in teahouses. You will stop in teahouses for lunch during the trek. The tea-houses are not that luxurious what you experienced in the Annapurna and Everest region.
Consumption of accommodation and eating services that mean paying directly to them, which also support the local economy.
With local conversation let you to know better their lifestyle, culture, and tradition gain a better experience.
Some villages along the Tsum Valley Trek still have basic lodges based on homestay. And need to sleep sharing basis with others being the increasing number of travelers in the Manaslu region.
Transport for Manaslu Circuit Trek
Start of the Trek- Arughat (670m/2,198 ft) or Soti Khola (710m/2,330ft): 135km from Kathmandu. It takes about 8 hours by Private Jeep and 8 to 9 hours from the local bus. The first day of the trek is all an adventure rides in off-road.
End of the Trek- You will be driving 6 hours from Dharapani in a Jeep and Change it to another Jeep or local bus for about 7 hours drive to Kathmandu or you can drive to pokhara instead.
Food during Manaslu Circuit Trek
Three meals (Breakfast, Lunch and Dinner) a day in tea house / mountain lodges that you can choose from teahouse / restaurant menu. If you are on big group at that time your Trekking Guide / Team leader will choose the food for you. Meals are generally available Nepalese and continental on different taste in everyplace but you have to eat the meals in same tea house.
Best time to visit Manaslu Circuit Trek
Generally, the best time to visit in the Manaslu Trek is autumn (October – November) and spring (March – April). There is relatively stable weather in the autumn season and will find some snow over 5,000 meters. The lush green forest and rhododendron will blossom during the spring season. But, Manaslu trekking can do all year round.
Manaslu Circuit Trek Route Map
We provide updated Manaslu Circuit Trek Map for each group, which helps to find proper information while on a trek. The Manaslu Circuit Trek map enables you to navigate the routes such as altitudes, duration of the walk, and so on. Therefore, we do offer variable Manaslu circuit trek itinerary as per your needs.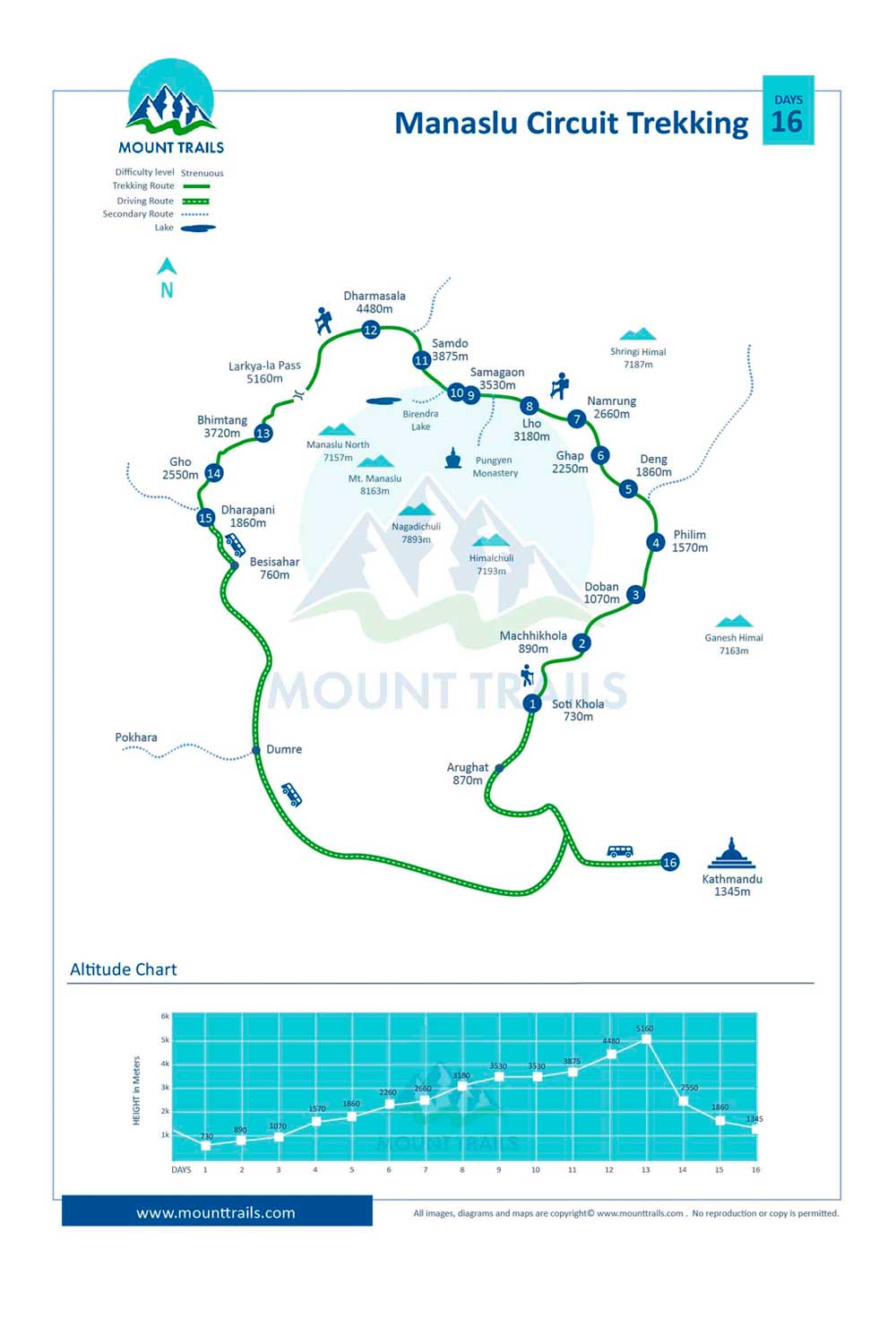 Manaslu Trek Difficulty
Mount Manaslu, the spirit of the Himalaya, is an 8th largest mountain on the earth. It is one of the longer trekking trails compared to other trekking trails in Nepal. The trek begins from sub-tropical to tundra climatic zones whereas traversing six different climatic zones. Likewise, it spreads from the 715 meters to 5218 meters and goes through the Buddi Gandaki valley which encircled the Mount Manaslu. It is, of course, challenging due to its gradual altitude, walk into thin air and covering 177-kilometers in the distance.
The Manaslu Trek is ideal for those people who have an excellent physical condition and keen to walk in high altitude. Note that, trekking in Manaslu is moderate to strenuous. Nevertheless, old-aged people can also complete this trek if he or she takes proper acclimatization.

Other Essentials Information
Telephone and Wifi during Manaslu Circuit Trek
Wifi is available in most of the tea houses. If you want to communicate back home, there is an satellite or cellular-based phone available in tea houses which takes a little bit of extra money to make a phone call. Local telephone hardly works on this trek. Nepal Telecom has better coverage than Ncell in the Manaslu region. Internet services are also available in Philim, Namrung, Lho, and Sama Gaon.
Electricity
Due to the micro-hydro project, in many villages has electricity is available. Likewise, light and power sockets are possible for charging batteries on the payable basis. Villages without electricity generally use a solar panel for light and battery charging.
Sustainability Tips
As a sustainable tourism operator, Mount Trails would like to share some sustainable tips while you are on a trek. Whenever you spend time out on adventure, you attempt to have the least effect on nature and the values of "leaving no trace" assist in preserving the environment you enjoy so much. However, when walking through isolated Himalayan settlements, you discovered it more complicated.
Sustainability tips for Manaslu Trek
In terms of sustainability, try to order food what locals eat.
Please do not buy bottled water or snacks during the trek.
Take boiled water from every lodge. If you are not 100% sure for its purity, please use water purifies pills.
Get to know about the region and their culture before you go on trek or ask with your trek leader.
Packing for Manaslu Circuit Trekking
You will need to bring a comfortable medium sized daypack to carry the things you will need during the day. This should have a waist strap or (better) a padded waist belt. Please kindly find the equipment check list on this link - Trekking Gear Lists
Frequently Asked Questions
How much does the Manaslu trek cost?
We do offer only $1349 per person. Prices may differ widely, from $1349 to $1699 per person based on the services.
Are permit require for Manaslu Circuit trek?
Yes, it requires Restricted Area permit (RAP), ACAP (Annapurna Conservation Area Project), and MCAP (Manaslu Conservation Area Project).
When is the best time to trek Manaslu Circuit?
Autumn Season (September – November) and spring Season (March to May) is ideal for this trek even though it can be completed all year round also.
Is altitude illness a risk?
Yes, you should have to aware of altitude sickness when you are over 4000 M. The highest point of this trek is Larkya – La Pass at (5,160m/16,930ft). It may cause altitude sickness if you are trying to go rapidly. However, you may prevent it, taking proper acclimatization and follow our recommended itinerary.
What gear do I need?
Good trekking gears are required for the Manaslu trek. It reveals you to a series of high altitudes where the temperatures vary tremendously between night and day. The route is long and moderately strenuous.
We highly recommend seeing our Equipment check lists for detailed gear lists. Manaslu Trekking Gear Lists
How hard is the Manaslu trek?
The Manaslu Circuit Trek is moderate to strenuous and crossing over Larkya La Pass at (5,160m/16,930ft). It requires walking 5 to 9 hours each day. But, it is still possible for first-time trekkers. You also need to physically and mentally fit enough to do Manaslu Circuit Trek.