Destination:

Nepal

Meals:

Breakfast, Lunch and Dinner

Transportation:

Private Vehicle / Aeroplane

Accommodation:

Local Mountain Lodge

Max. Altitude:

3210 Mt./10531ft.

Min. Group Size:

01 Minimum - 10 Maximum
Highlights
Tour of the naturally endowed Pokhara valley with pristine lakes and mountain views
Experience off the beaten trails with dense forests of rhododendrons, magnolia, and oaks
Views of mountain giants like Annapurna, Dhaulagiri, Manaslu, Mardi Himal, Hiunchuli, and others
Reach High camp of Mardi Himal at an elevation of 4250 meters
Mardi Himal trek is a paradise for nature and adventure for those who prefer wilderness. The trek is for those who seek natural beauty and tranquility in the himalaya.
Mardi Himal trek gives an opportunity to get closer as much as Machhapuchare Himal (Mt. fishtail,6997m) the famous triangular skyline which is seen from Pokhara, Annapurna II (7937m), of course Mardi Himal(5393m) east of Modi Khola, Annapurna IV (7523 m) Mardi Himal is located in the east of the Modi Khola other side of valley from Mt. Hiuchuli. Mardi Himal trek is considered to be an ideal trekking introduction in the high Himalaya, particularly if you have limited time available. 
Mardi Himal Trek let you to experience dense forests of rhododendrons, magnolia, pine, and oaks with the picturesque views of snow-clad mountains like Annapurna, Fishtail, Hiunchuli, Tent Peak, Dhaulagiri, Manaslu and others, the trek reaches the maximum elevation of 4250 meters at High camp. It is a moderate level trek with ample time to acclimatize to the rising elevationsNo previous experience of high altitudes is necessary, as every precaution will be taken to ensure gradual and thorough acclimatization during the trek to the mountain. Trail follows through the rhododendron and oak density forest with many different wildlife en-routes.  Mardi Himal trek is designed to provide outstanding mountain profile and to venture into the forests and villages that have not felt the impact of tourism. Mardi Himal trekking offers superb Himalayan scenery including the Mt. Dhauglagiri 8167m, Mt. Annapurna 8091m,Annapurna II 7937m, Annapurna III 7555m, Annapurna IV 7525m, Annapurna south 7219m Hiunchuli 6441m, Fish tail (Machhapuchhare 6997m) and many more. Mardi Himal trekking is less touristy wilderness trekking destination in Annapurna.
We make uphill climbs and walk along high ridges as we make our way to the base camp of Mardi Himal. The trek is ideal for spring season becasue on the way we can see the Rhododendrons flower blossom and clear skies with beautiful view of the mountains and surrounding landscape. The warm people with their unique cultures and warm hospitality make the trek a cultural and enriching experience.
Pokhara is the gateway city of Mardi Himal Trek. We drive to Kande from Pokhara which is about 1 hour of drive. From Kande, you start hiking upstairs Deurali following Australian Camp and Pothana. After Deurali, you trace the route to Forest Camp then after Low Camp. From Low Camp, you will have probably the best views of Machhapuchhre anywhere in Nepal along with sunrise and sunset views. Above this at 3580 m is a high camp which again offers spectacular views overlooking Annapurna Base Camp. Further along, you can then reach Mardi Himal Basecamp itself with views overlooking all of the Annapurna range. There are no guesthouses in Mardi Himal Base Camp. So, from High Camp after walked to Mardi Himal Base Camp you again back to High Camp or Low Camp for night spend. Then you trek down to Siding from where you take a drive to Pokhara.
Cultural Significance of the Mardi Himal Trek
Enroute, we pass various ethnic villages inhabited by people from different ethnic groups. It's truly an insightful phenomenon to interact with locals and get to know more about their cultures, custom, festivals, lifestyle, and practices. The people are very cheerful, and one can receive the best hospitality from locals on the route. You will feel so happy and homely. One can also notice the unique blend of Buddhism religion on the way. The colorful prayer flags, mani walls, and stupas on the road add a positive and vibrant aura to your journey.
Mardi Himal Trek Best Season
It's important to choose the best season before trekking. In Nepal, the best season for trekking starts from mid-September to early December which includes Mardi Himal Trek too. The weather is clear and favorable with crystal clear scenery as well as snowfall during November and mid-December.
While February to April season is the second most preferred season for trekking. As the days are warmer and the nights are cooler(not freezing cold).  The weather is dry and offers wonderful views of the mountains.
Trekking during December and January is quite difficult as the weather is freezing cold but the weather is clear during the daytime. In this time, we can experience heavy snowfall, clear blue sky and cool breezes which provides excitement to some travelers.
June to Mid September is the season of monsoon. Heavy rainfall occurs which may spoil the treks. But, the scenery after heavy rainfall is magical and refreshing.
Mardi Himal Trek Difficulty
Trek to Mardi Himal is considered as a moderate trekking route in Nepal. Hiking distance is quite short and easy with a gradual increase in height. The highest point is Mardi Himal Base Camp which is at a height of 4,500m. Hiking days are shorter and well managed focusing on the health and status of the trekkers. Problems like altitude sickness don't bother as we don't stay longer at Base Camp and reaching to this point takes place through proper rest. As the resting spots (teahouses) make this trip less tiring and stressful.
The most difficult part is while climbing up to Base Camp but after reaching the Mardi Himal Viewpoints then you feel all the hard work pay off after viewing the wonderful scenery of this region. All the tiredness goes away and provides you with the experience of a lifetime.
Trip Cost Details
Cost Include
Airport pick up and drop off by private transportation. 
2 nights accommodation in Kathmandu on bed and breakfast basis 
1 nights accommodation in Pokhara on bed and breakfast basis.
Guide & porter salary, insurance, equipment, flight, food and lodging
All necessary paper work and permits (Annpurna Conservation  permit and TIMS Card )
Full meals (Breakfast, Lunch & Dinner) during the trek with tea and Tea or Coffee
Regular Tourist bus to Pokhara or domestic flight can be arrange on your request which will be extra cost. 
An experienced English-speaking trek leader (Govt. registered trekking guide),
Assistant trek leader (1 assistance guide or sherpa more than 4 trekkers in a group ) and Sherpa porters to carry luggage (1 porter between 2 trekkers )
Welcome or farewell dinner at Yala Cafe.
A comprehensive medical kit
All government and local taxes
Cost Exclude
Personal trekking equipment 
Transport outside of the tour program
Lunch and dinner while you are in kathmandu and pokhara
Travel insurance (Compulsory to have insurance which covers helicopter evacuation)
Personal expenses such as alcoholic beverages, soft drinks, mineral water,monuments entrance fees, postage, laundry, video, camera, phone, etc. 
Tipping to guide  (frequently receives some recognition for good service) 
All additional tours and activities which are not included in the above itinerary.
Trip Map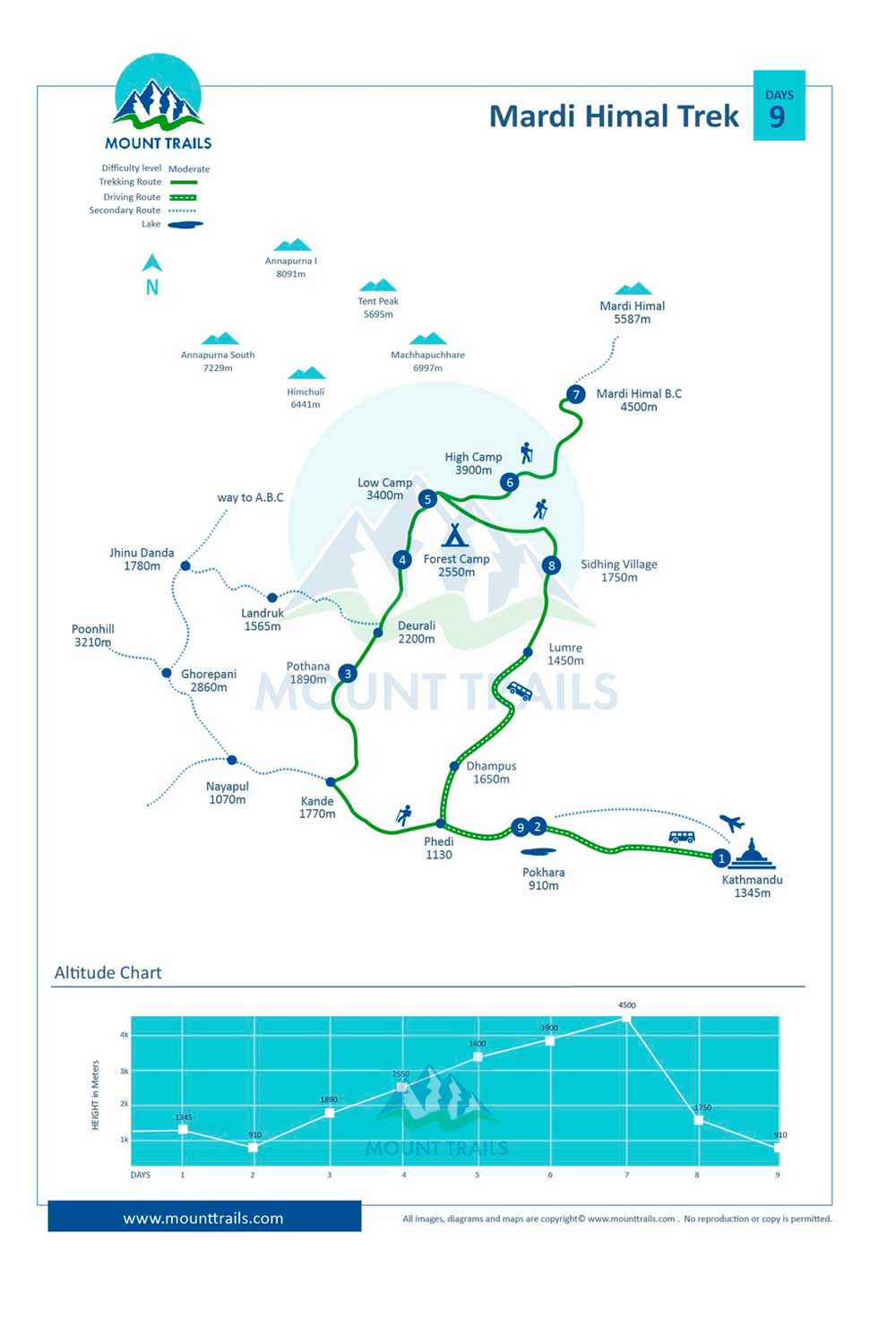 Useful Info
What Makes This Trip Different? 
Mount Trails believe in the quality services with great vlaue to our guests.  Your safety and satisfaction is our concern. We are a team of professional, experienced, well trained and licensed local guides who knows the destination much better than others. Not only this but also we give benefits the local communities and helps to conserve natural resources which reduced in costs and consumption.
Mount Trails works for social causes with some non-profit organization Lets Go Cool  concerned with environmental conservation and preservation includes Orphan children who need better education and the better life. We are supporting for the cause with some of our profits to a certain organization so that we can make their life better and bring happiness in thier life. We believe that education and healthy children make more stable and better future of Nepal. For donation, Sponsorship or any kind of Voluntourism, please contact to our orginization [email protected]  
Trip Note
Our Trekking Group
The trekking group is depends on the number of persons but we normally take in 02-10 persons in a group. However, if you are in a bigger group of more than 10 persons, we can manage trekking accordingly. The maximum number 10  is the outcome of generally organized group treks. But, we are good at organizing treks for any group size you require. 
Besides the trekking group, we have our local staffs to assist you as well. Trekking does not just mean traveling around, it will be more rewarding if you can gain good bunch of information of the areas you travel so we provide you with guides for that and in order to assure easy travel experience, we have porters who would carry on your luggage. We will facilitate you with 1 porter between 2 trekkers. Our porter carry maximum of 20 kg weight. 
Guides and Porters
For trekking group of 1 to 5 people, we provide – 1 Guide and Porter (1 porter between two trekkers).
For trekking group of more than 5 people, we provide – 1 Guide, 1 Assistant Guide and Porter (1 porter between two trekkers).
Accommodation
Our overnight stay would be on Tea Houses/lodges during our trekking.  Twin sharing comfortable beds and common bathroom will be provided. The place is clean and hygienic. However, if you require a single supplement accommodation, it can also be made available on request at an additional cost of US$ 40. But still you need to be aware that single supplement accommodation may not be available at all the places during your trek in Himalayas. 
Meals
We mostly serve fresh and hygienic food to let you experience typical Nepali food, special mountain foods and other cuisines including international cuisine like Indian, Tibetan, Italian, and Continental. You can always make your choices from the food menu available there. We will have breakfast and dinner at lodge/tea houses mostly whereas we will have the lunch on our way. 
While in Kathmandu, your accommodation is at tourist standard hotels facilitated with Attached Bath, A/C, 24 hours running hot/cold shower, Internet service and others. The facilities provided here is of 2 to 3 star standard hotel and we serve you a breakfast at same hotel.
Transportation
The means of transportation are private cars/vans or regular tourist bus. Pick up and drop off from airport to hotel, and hotel to airport will be done by private transportation. Also we can arrange domestic flight as per your request. Trek in Nepal will start with a drive from Kathmandu to trek starting point.
Safety and Precaution
It is necessary that you take in good precaution during your travel to avoid any difficulties in your Trekking in Himalayas. As the trekking leads to higher altitude range, you need some trustworthy, experienced, qualified and well-equipped people around you. Your safety is assured by the local trek guide and other staffs. 
Since these hikes take you on the remote Himalayan region, it is very essential that you are accompanied with the very experienced, qualified and well-equipped leader such that your trek runs safe and successful one. All our guides at Mount Trails are trained and licensed from Nepal Government, certified from TAAN and Nepal Mountaineering Association with experience over many years. So, this is a double assurance for your safety and to make sure that you are in the correct and professionals hand. Thus, you need not worry about anything; we are here only at your service.
Health Issues
Regarding health issues, we are well aware that you are likely to get Acute Mountain Sickness (AMS). Going up high at faster pace is too harmful and can be fatal as well because of less oxygen. Some general symptoms of AMS are mentioned clearly on this link: http://www.mounttrails.com/altitude-sickness-in-nepal-himalaya.html
Trekking plus
If above itinerary that don't suit to you and wish to modify above itinerary then please let us know, we would be so much happy to create a tailor made itinerary as per your time and interest.It is also possible to combines above trip with Jungle safari, Rafting, Mountain flight or with any other travel plans in Nepal, Tibet and Bhutan. Mount Trails expert trek tour operator will design and arrange your holiday as per your time length and interest.