Destination:

Nepal

Meals:

Breakfast, Lunch and Dinner

Transportation:

Private Vehicle/Tourist Bus /Flight

Accommodation:

Lodge + Camping

Max. Altitude:

5160 M Kanchenjunga base Camp

Min. Group Size:

01 Minimum to 14 Maximum
Highlights
30 minutes flight to Biratnagar or Bhadrapur with stunning view of Himalaya ranges including Mt. Everest
Ilam Tea garden on the way drive to Taplejung
Experience authentic nepali culture and lifestyles
Stunning view of Mt. Kanchenjunga, the World's 3rd highest mountain
Visit of North and South base camp of Mt. Kanchenjunga and High mountain passes
Kanchenjunga Base Camp Trek is an ideal trekking route for those with time and desire to venture into some of the remote regions of Nepal. Kanchenjunga is the third highest mountain in the world at 8586 meters, and is a magnificent peak striding the border between Nepal and India. Kanchenjunga base camp Trek begins from Suketar Taplejung accessible by air or Biratnagar /  Basantapur accessible by road.  Abundunt rhododendron and bamboo forests, dramatic mountain panorama, communities with ancient history and Mt Kanchenjunga, the third highest peak in the world, it all combines to make the Kanchenjunga Base Camp trek an offbeat trekking heaven.This is inside the Kanchenjunga Conservation Area which was one of the first areas of the Himalaya explored in the 19th centry. The area is first in Nepal to be managed by local communities and has proved quite successful in the main trail. However, it is yet to be fully effective in remote areas. Yet it remains largely unvisited by travelers. A permit is required to trek to this region.
Kanchenjunga Base Camp Trek begins along the Tamur River through Pipal trees and villages where traditional life is little touched by the modern world. This includes those of the Limbu people, famous for inventing Tongba (the highland concoction made from fermented millet) and as the mainstays in the British Gorkha Regiments.Passing through some of the country's most pristine oak and rhododendron forests brings you to harsher high terrain. Crossing the Mirgin-La pass at 4725 meters gives you views of Makalu, Chamlang and Everest. Next you will pass the glacier, and finally you are rewarded with an incredible, close-up view of Kanchenjunga peak as you approach the Kanchenjunga base camp at Pang Pema. Whilst exploring the surrounding area you will also see a panorama of Wedge Peak, The Twins, Pyramid Peak and Tent Peak in our Kanchenjung base camp trekking.
Trip Cost Details
Cost Include
Airport picks up and drops as per group size 
All  applicable transportation
Flight fare Kathmandu / Biratnagar / Kathmandu (Guide + Guests) including Airport Taxes
3 meals per day during the trek (Breakfast Lunch & Dinner) including Tea or coffee
Accommodation ( Mountain Lodge ) on twin sharing  or provided Tents during the trek as mentioned in the itinerary 
Accommodation in kathmandu on bed & breakfast basis 
An Experienced  English speaking Guide
Kanchenjunga National park Fees
Special permit for Kanchenjunga Base Canp 
TIMS Trekkers information Management System
Necessary porter during the trek
All Guide and Sherpa's salary,  Equipment and insurance during the trekking
First Aid kit
Farewell Dinner with Typical Nepali restaurant
All Government local Taxes
Cost Exclude
All personal expenses during the trek
Lunch and Dinner in Kathmandu
Trekking equipment any type of personal expenses such as Alcoholic Beverage drinks, phone and Laundry
Emergency Rescue and Travel Insurance.
 Trip Cancellation cost accident or Health, Loss Theft or Damage and personal effects
Tipping to guide and porters 
Trip Map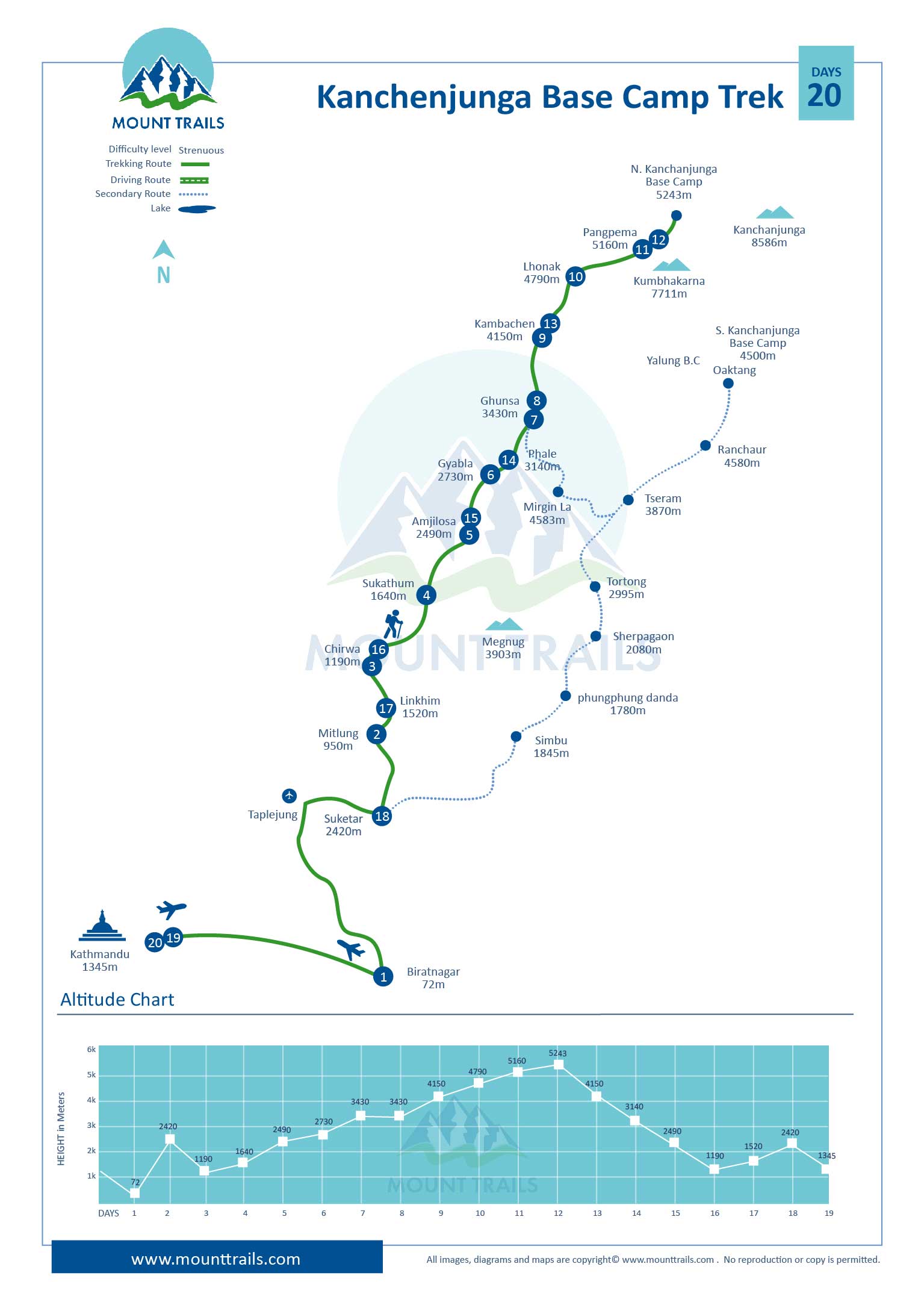 Useful Info
Accommodations
The accommodation we have been providing in Katmandu is deluxe hotel and mountain best available guest house according to the guest demands and need. During the trek we provide standard Guest House with sound environment and hygienic food for the guest to make their trip happening and healthy. Being third highest mountain Kanchenjunga is collecting many tourist. so, there obviously better Lodge and facilities in compared to previous times. Since, Kanchenjunga Trek is camping trek we provide comfortable dining, kitchen, crew, restroom tents and sleeping materials like mattress, Sleeping bags etc. We provide twin tent for our guest.
Meals
We get  different choices of food especially in the cities areas especially in Kathmandu valley with lots of restaurants serve different cuisine but during the camping trek we get to eat from Continental, Indian and Nepali menu especially choices like Pasta, Pizza, Mo. Mo, soup items, Potatoes items, Dal Bhat, Hot drinks Tea & Coffee etc. Our camping cook are well trained and certified from Nepal Academy of Tourism and hotel Management.
Our Team
Being homeland of Himalayas, it's obvious to have challenging routes, High altitude problems, Weather and other conditions; any of those situations is big enough to ruin your trip. Leading around the steeply hills and rocky routes is not a job of common climbers and trekkers. Mounttrails Trekking and Adventures have been providing local trekking expert leaders and staffs working in this field perfectly since long years to overcome tough challenges and make your trip a life time memory. They are trained and well certified by the Government of Nepal. All of our staffs have received emergency guidance in Himalaya's and have knowledge of first Aid for our guest. We never compromise giving safety to our staffs, therefore we provide insurance and medical services during the trek and compensation when they need especially to Porters, Kitchen member and other.
Best Season to Trek in Nepal
Autumn (September - November) and Spring (March - May) is the best trekking season for the trekking and mountaineering in Nepal.  Weather is mostly clear and temperature is moderate which offers beautiful views without any obstruction. Spring collects beautiful flowers, plants and rare animals Walking is also very much suitable during this season. 
Summer (June - August) and Winter (December - February). Though Summer collects heavy monsoon rainfall it is very much clear to trek around Mustang, Dolpo and Nar- Phu valley since they are rain shadow areas.  Tibet is much more favorable for Tibet trek. Everest,  Langtang and Annapurna are always comfortable to trek even in winter season.
Experience & Fitness
Trekking in Nepal for Kanchenjunga Trek does not require past experience, though we have challenging route in Everest compared to Annapurna our itinerary suggests to walk comfortable distances. Trekking in Himalayas always takes us to challenging altitudes and rocky routes, demands proper rest time and acclimatization to sustain their strength. We always have both listed properly in our itinerary. However certain training like Running, Skipping and other workout will definitely help you in roots. 
Acclimatization
Altitude sickness is a significant risk when trekking on any trails above about 2,500m. However good health, proper care and drinking plenty of water will definitely help you to prevent from altitude sickness. Every trekkers needs to be familiar with the heights so, for this we have life saving acclimatization days during the trek, peak climbing and expedition. We also provide certain medical support for your relief and emergency rescue through helicopter whenever guest require.
Eco Friendly
Mount Trails is very much concern agency on environment pollution and Global Warming. We are always serious and genuine towards our garbage during the trek especially in Camping type. We collect all the rubbish and deposit it to proper place to protect our environment. We also suggest all travelers to protect our environment and Stop Global Warming. 
Trip Note
We have tailor-made program for Kanchenjunga Trek. Days in the itinerary are always flexible, can be increased & decreased depending on your holiday and time schedule. Trekking in Everest around the Himalayan region goes through unexpected complication like natural and health challenges resulting chances in the itinerary for your security during the trek by our professional guides and leader to take you to final point safe and sound so, please cooperate with your guide for you protection.
The Trip cost depends on the Group Size and number of days so please contact us for the best deal  @ [email protected]