Destination:

Nepal

Meals:

Breakfast, Lunch and Dinner

Transportation:

Private Vehicle

Accommodation:

Local Mountain Lodge

Max. Altitude:

3,165m/10,382ft

Min. Group Size:

02 Minimum - 10 Maximum
Highlights
Visit Langtang National Park
Experience trekking on the Tamang Heritage Trail
Enjoy the hot spring at Tatopani
Take in a traditional cultural show at Briddim
Experience a culture and learn about one of the Nepal's Tibetan-influenced culutures and tribes. Stay in a local homestay in Briddim, to learn more about the Tamang people and their way of life and enjoy spectacular views of mountains including Ganesh Himal, Langtang and Gosainkund range.
Tamang Heritage Trail Trekking in Langtang region is newly open  tea house trekking in Nepal. The route exposes a unique ethnic culture that's found within the Tamang community in this area who traces their roots to Tibet with mystical customs and traditions of their lives based on ancient superstitions that are as old as these mountains. This trek is an easy and lively experience for any enthusiastic travelers who would love to spend some quality time amidst nature experiencing the local folks' rich culture and routine life. The trail is still untouched by any modernization. The trail treasures the authenticity of nature, wildlife, biodiversity, and the traditional lifestyle of people.
Tamang Heritage Trkeking is culture base trekking that presents some fantastic mountain views, snowy alpine territory, green meadows and lush rhododendron forest which gives us the experience of a vacation in the wilderness within the shortest possible time. This trek start from kathmandu and ends in Kathmandu. A scenic drive from Kathmandu takes you to the village of Syabrubesi, the trailhead. Trek to the Tamang village of Gatlang dotted with traditional stone houses. Descend to Thangbuchet River and bask in the stunning views of Langtang Ranges and Ganesh Himal on your way to Tatopani. Walk past the lush green forest and stunning Himalayan views on your way to Thuman. Next day, you will be hiking to a village called Briddim which lies in the foothills of Langtang Himal. Briddim village lies near the Tibetan border and you will notice the influence of Tibetan Buddhism in their culture and lifestyle than descend back to to Syabrubesi.
The Tamang Heritage Trail trek also gives us the pleasant view of mountain such as  Langtang Lirung (7245m), Langtang Kerung, Chumse Danda ridge (5122m), Dorje Lakpa (6989m), Jugal Himal, Ganesh Himal, Paldor peak, Shringi Himal, Manaslu and Sanjen Himal ranges. Glaciers of different shapes and high altitude lakes in mountain. This trek will make up a wonderful holiday that will be longer in the memory of a life time. Experience the wonder of the himalayas like a local with Mount Trails
Tamang Heritage Trail Trek Difficulty
Tamang Heritage 7 days treks is an easy trekking in himaaya. You will be attaining a maximum altitude of 2,670 meters at Thuman. Your maximum walking duration is about 7 hours and minimum 4 hours. On average you will be trekking for around 6 hours. Tamang Heritage Trail Trek is suitable for all fitness levels as well as recommended as a family trek with kids.
Best season
The best seasons to do the Tamang Heritage Trail are spring (March-May) and autumn (September-November). Because the altitudes on this trek aren't especially high, it is also a comfortable trek for the winter, and views are likely to be good at this time. Just bring some warm layers with you during the winter pre winter and post winter season too. 
Trip Cost Details
Cost Include
All accommodations in lodges/tea houses during the trek.
Your standard meals (Breakfast, Lunch and dinner) during the trek with hot tea/coffee.
Ground transportation from Kathmandu- Syabrubeni- Kathmandu by local bus ( private vehicle can be arrange as per your request and it will be extra cost )
An experienced and friendly Trekking Guide ( including their salary, insurance, equipment, food and accommodation )
Arrangement of Emergency Helicopter service 
Seasonal fruits during treks
Langtang national park permit
Trekkers Information Management System (TIMS) with one photo
First aid Medical kit box
All government and local taxes (including 13% VAT and 10 % service charges ). 
Cost Exclude
All personal expenses (including the gears and clothing taken on hire by the travelers, phone calls, battery charge, hot shower, etc)
All the expenses while you are in Kathmandu 
A porter (normally 1 porter between every 2 person basic) carries max.20-25 kg. 
Your Travel insurance (compulsory) and emergency evacuation expenses
All the alcoholic, non-alcoholic drinks and dessert during the treks 
Tips for the guide ( tipping is expected ) 
Any others expenses which are not mentioned on including section.
Trip Map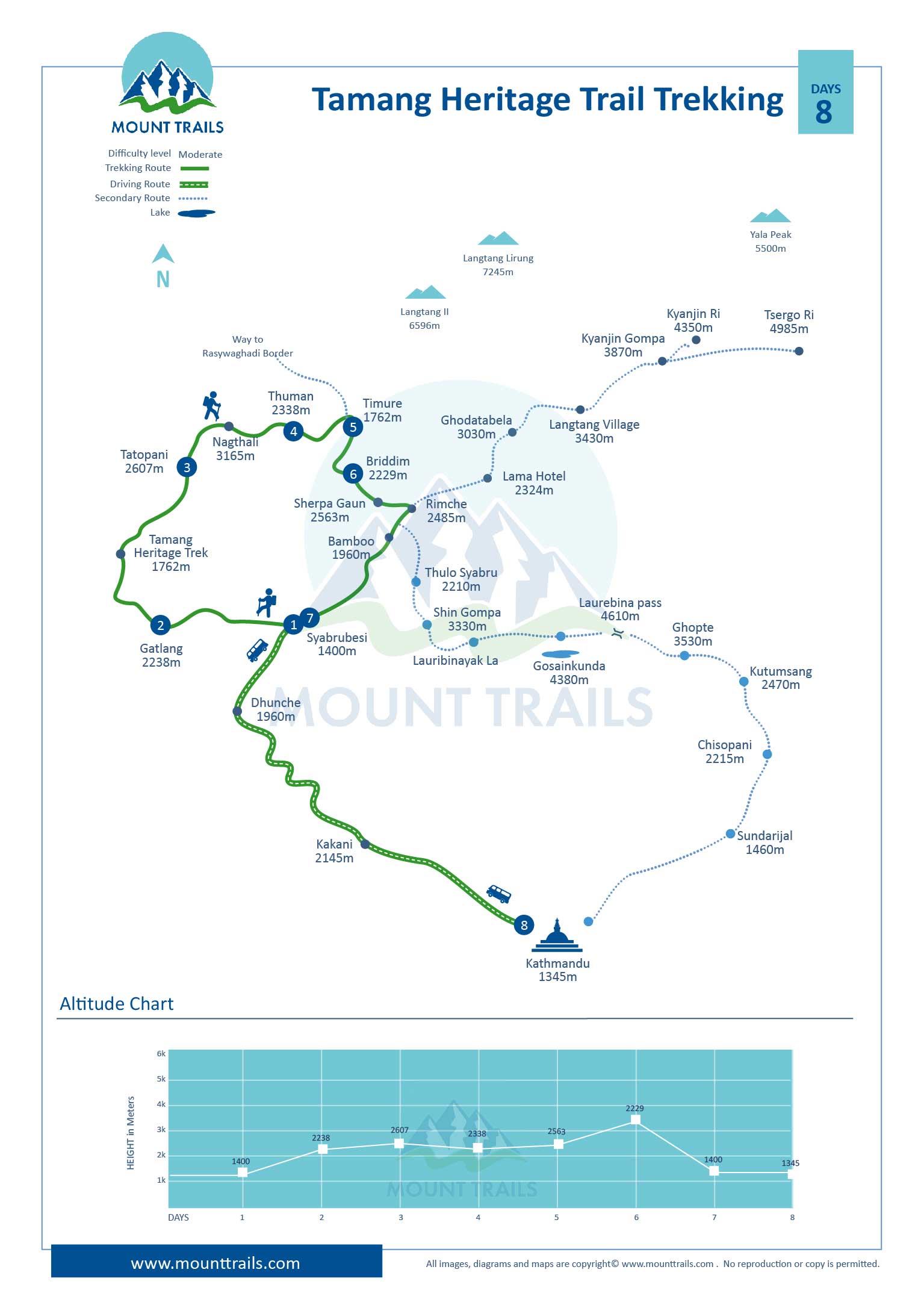 Useful Info
Meals
Eating is a big part of Holiday. Travelling with Mount Trails , you experience the vast array of wonderful local  fresh Nepalese , Chinese, Continental, Italian and several local cuisines. Breakfast, Lunch & Dinner are included in the package. Your guide will suggest delicious, hygienic and each place special food during your trip. Mountain restaurant owner prefer not to order many dishes and waste food as they would like to cater more trekkers with limited food before run off stuck. Its a week or more days hard work to porters and caravans to bring food to these places. During this trek you will usually have breakfast and dinner at the same Lodge, lunch will be eaten at one of the trail side restaurants en-route.
Accommodation
A Local Tea House is the combination of guest house in Himalayas, restaurant. Private rooms are available in most Tea Houses, except for high altitudes ones where it will be just dormitories. The lodges are fairly basic and the rooms are spare with twin beds and very little additional furniture. Blankets are generally provided at the local lodge. There is a large dining room-cum-lounge, warmed by the bukhara stove (an iron cylinder, fitted with a chimney duct, in which a log fire is lighted. There is normally no electric lighting in the rooms unless the village has hydroelectric power. The dining room usually hassolar lighting. Most teahouses now also have electricity for charging mobile phones and cameras and it will be extra chargech which will be minimun
Drinking water
Mount Trails provides unlimited chlorine/Iodine treated water during the trek. All tea houses have mineral water and boiled water for trekkers upon additional cost. We discourage the purchase of Mineral water and bottled water while on the Trek as plastic bottles aredifficult to dispose off and have become an environmental problem
Route Map
Mount TrailsnTrekking and adventures offers you complementary route map of the trekking region.
Trip Note
What to take
This is a very active trip, meaning you will be on the move most of the time, so pack as lightly as possible. We provide one porter for every two travellers; your trekking gear will be carried by the porter in a duffel bag that we will provide. The maximum the porters are allowed to carry max 20 kgs between 2 trekkers . Unnecessary luggage can leave in Kathmandu Hotel and its absolutely no additional charges. 
Important to note
Please read the Checklist section of this trip notes for additional details of what you need to bring for the trek on this trip. You will need to bring a comfortable medium sized day pack to carry the things that you will need during the day. This should have a waist strap or (better) a padded waist belt. The weather is subject to change in high altitude so layered clothing is recommended throughout the year.
This trek requires normal level of  physical fitness. It is advisable that please keep yourselves fit  and your stamina for at least two months before departure. Recommended work out befor you head off to trek : go for daily exercise, jogging, swimming, or gym, etc).
As for trekking equipment and other preparations needed for this trek. we will inform you via email,A preparation checklist will be provided via email such as how to pack luggage, budgeting etc 
Trekking lodge along the trail has hot water supply, but some depended on solar power, thus the temperature for hot shower is unstable.
Temperature gap is huge between day and night and High elevation and the cold may affect sleeping quality.
If above program itinerary that don't suit to you and wish to modify above itinerary then please let us know, we would be so much happy to create a tailor made itinerary as per your time and interest. It is also possible to combines above trip with Jungle safari, rafting, Mountain flight or with any other travel plans in Nepal, Tibet and Bhutan. Mount Trails expert trek tour operator will design and arrange your holiday as per your time length and interest.