Destination:

Nepal

Meals:

Breakfast

Transportation:

Private Vehicle

Max. Altitude:

5545 M

Min. Group Size:

5545 M

Accommodation :

No Accommodation
Highlights
Experience Beauty Landing in Everest base Camp !!!
Enjoy the most attractive Mount Everest view by helicopter
Experience the 360-degree panoramic mountain view. 
experience beauty of Sherpa homeland and authentic breakfast in mountain
Everest base camp helicopter tour with landing, the helicopter flight from Kathmandu allows visiting Mount Everest in a day- 4 hours trip in the morning, landing at base camp within Kala Patthar Summit view point located above 5545 meters.
Everest Helicopter Day Tour is a great way to experience Everest in just one day. We begin our helicopter tour from Kathmandu and fly towards the east to Lukla which is a beautiful Sherpa village. From here we fly over the Everest Base Camp which is one of the most popular trekking destinations in the world. From our helicopter, we also admire great views of the Khumbu Glacier which is ideally located between Mt. Everest and the Lhotse-Nuptse ridge. Next, we stop at Kalapathhar for the grandest views of the world's highest mountain and it's neighboring Himalayas. Then we fly to Syangboche and spend around twenty minutes at a hotel for breakfast while also admiring the beautiful Himalayan vista. We fly back to Lukla for fueling and return to Kathmandu and end our amazing helicopter day tour of Everest. The entire Day Tour of Everest Helicopter Day Tour gives us a unique opportunity to not just reach the base camp of Everest, the highest mountain on Earth but get the best aerial views of Everest and neighbouring Himalayas on an exclusive helicopter flight.
Activities
Everest base camp helicopter day tour with landing experience at Kalapather, stop one hour at hotel everest view for Breakfast time.
Time Duration, People and Culture
Majority of Sherpa people with Buddhist religion & culture
Everest base camp helicopter flight tour duration with landing will be around 4 hours from Kathmandu to lukla to Everest base camp to Kathmandu
Important Reminders
Your personal information will be used for verification with your ID, so please ensure that you enter your name as stated
Bring a camera and gear up in warm clothing
Additional Information
The hotel pick up time in Kathmandu will be at 6:00am and flight departure will be around at 6:30am
Hotel pickup & drop-off (for Kathmandu City hotels only but additional charges apply for accommodations outside the city)
Comfortable transportation
Terms and Conditions
85% refund will be issued for cancellations made before the scheduled activity time. Please contact Mount Trails customer service for any refunds
No refunds will be issued for no-shows
Itinerary
Kathmandu to Lukla
Lukla to Everest Base Camp (fly over)
Everest Base Camp to Kalapathhar for magnificent views of the Everest panorama
Kalapathhar to Syangboche (breakfast in Syangboche with the Himlayan vista)
Syangboche to Lukla
Lukla to Kathmandu
Cost Details
1 person: 4999 USD per person
2 people: 2555 USD per person
3 people: 1700 USD per person
4 people: 1499 USD per person
5 people: 1200USD per person
Trip Cost Details
Cost Include
Airport pick-up and drop-off by a private vehicle
4-5 hours helicopter flight
National Park fee
Breakfast in Syangboche
Company service charges
All government and local taxes
Emergency oxygen availabe inside the helicopter. (Additional cost required for personal use of the oxygen cylinder outside the helicopter)
Cost Exclude
All other expenses which is not include on Cost Include section.
Trip Map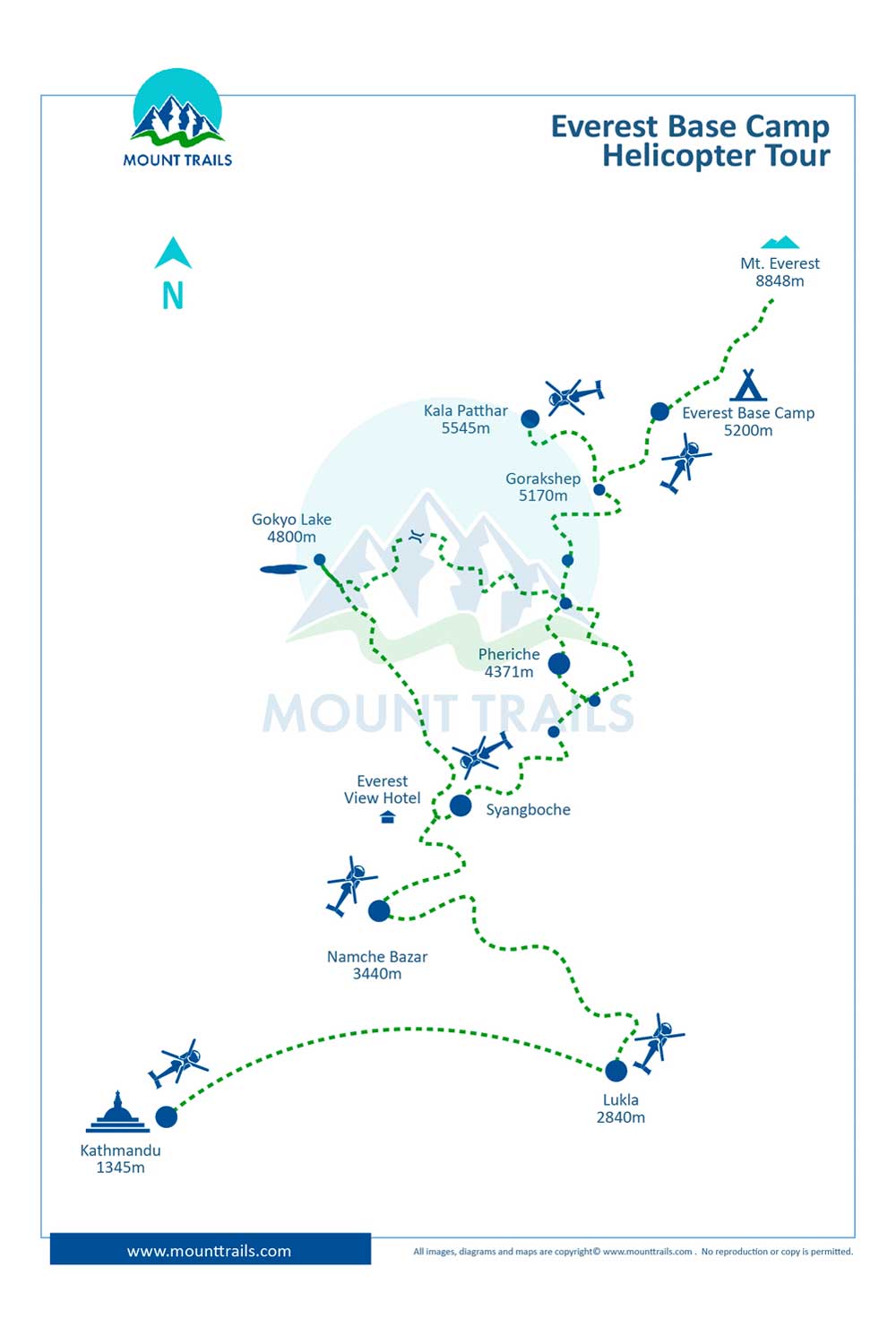 Useful Info
Best Time to Travel
The best time to take this trip is from September to April. Although spring and autumn are Nepal's popular tourist seasons, a helicopter day trip in the winter guarantees equally clear views that will have you mesmerized. However, being the monsoon season the months of June, July and August are not recommended.
Trip Start Dates
We will organize this trip on the dates requested by you. Please contact us for your customized departure date.
Additional Information
Our website contains as much information as possible about this trip. However, if you wish to discuss any aspect of this trip or your suitability for it please contact us by email.
Trip Note
Spending only around five minutes in Kalapathhar will prevent us from getting altitude sickness. Our helicopter will be on stand-by at Kalapathhar therefore it is technically impossible to spend more than the allocated time.