Destination:

Nepal

Meals:

Breakfast

Transportation:

Private Vehicle

Max. Altitude:

5545 M

Min. Group Size:

5545 M

Accommodation :

No Accommodation
Highlights
Experience Beauty Landing in Everest base Camp !!!
Enjoy the most attractive Mount Everest view by helicopter
Experience the 360-degree panoramic mountain view. 
experience beauty of Sherpa homeland and authentic breakfast in mountain
Mountain breakfast in Syangboche ( Everest view hotel ) with the Himlayan vista)
Everest base camp helicopter tour with landing, the helicopter flight from Kathmandu allows visiting Mount Everest in a day- 4 hours trip in the morning, landing at base camp within Kala Patthar Summit view point located above 5545 meters.
Everest Helicopter Day Tour is a great way to experience Everest in just one day. We begin our helicopter tour from Kathmandu and fly towards the east to Lukla which is a beautiful Sherpa village. From here we fly over the Everest Base Camp which is one of the most popular trekking destinations in the world. From our helicopter, we also admire great views of the Khumbu Glacier which is ideally located between Mt. Everest and the Lhotse-Nuptse ridge. Next, we stop at Kalapathhar for the grandest views of the world's highest mountain and it's neighboring Himalayas. Then we fly to Syangboche and spend around twenty minutes at a hotel for breakfast while also admiring the beautiful Himalayan vista. We fly back to Lukla for fueling and return to Kathmandu and end our amazing helicopter day tour of Everest. The entire Day Tour of Everest Helicopter Day Tour gives us a unique opportunity to not just reach the base camp of Everest, the highest mountain on Earth but get the best aerial views of Everest and neighbouring Himalayas on an exclusive helicopter flight.
Activities
Everest base camp helicopter day tour with landing experience at Kalapather, stop one hour at hotel everest view for Breakfast time.
Time Duration, People and Culture
Majority of Sherpa people with Buddhist religion & culture
Everest base camp helicopter flight tour duration with landing will be around 4 hours from Kathmandu to lukla to Everest base camp to Kathmandu
Important Reminders
Your personal information will be used for verification with your ID, so please ensure that you enter your name as stated
Bring a camera and gear up in warm clothing
Additional Information
The hotel pick up time in Kathmandu will be at 6:00am and flight departure will be around at 6:30am
Hotel pickup & drop-off (for Kathmandu City hotels only but additional charges apply for accommodations outside the city)
Comfortable transportation
Terms and Conditions
85% refund will be issued for cancellations made before the scheduled activity time. Please contact Mount Trails customer service for any refunds
No refunds will be issued for no-shows
| | |
| --- | --- |
| No of Pax  | Price in USD /Per Person |
| 1 person or charter | 4999 USD per person |
| 2 people  | 2555 USD per person |
| 3 people | 1700 USD per person |
| 4-5 people | 1499 USD per person |
Itinerary
Lifetime memorable experience helicopter tours to the Everest Helicopter Tour is a short day tour in the Everest region. Everest Helicopter Tour starts from Kathmandu and ends in Kathmandu. It's normally 4 to 5 hours flight from Kathmandu. The flight will be landed at Everest view hotel for breakfast and Kalapatther 5,644.5 m (18,519 ft) for the best view of the Everest and other mountains
Phase I
Everest base camp helicopter start from Kathmandu fly over the Kathmandu valley, through Nagarkot hill, Jiri Alpine forest and landed at Lukla.
Phase II
After refueling fly over Namche Bazaar, old Tengboche Buddhist monastery, Pheriche, Khumbu Glacier and landed at the Kala Patthar viewpoint.
Phase III
Take off from Kala Patthar and fly through Everest Base Camp (EBC). Then landed at Everest view hotel for breakfast/lunch.
Phase IV
After breakfast, flying back to Lukla through Namche bazaar short stop at Lukla for refueling and then fly back to Kathmandu airport.
Trip Cost Details
Cost Include
Airport pick up and drop off.
Helicopter Charter cost to Everest Base Camp Tour on sharing base (max 4-5 People)
Landing at the famous viewpoint of Kala Patthar for short Hiking (for about 10 min but enough time to take a picture and see the mountain).
Landing 50 min to 1-hour for breakfast break at Everest view hotel(Syangboche) with a closeup view of Mount Everest and other high himalayas
First Aid kit box and Emergency oxygen availabe inside the helicopter (Additional cost required for personal use of the oxygen cylinder outside the helicopter)
Domestic airport departure taxes/fees.
All government taxes and service charges.
Cost Exclude
Meal (Breakfast/lunch) in Everest view hotel during the trip.
National park permit fees of Sagarmatha national park.
Life and medical insurance during the trip
Personal expense on a trip.
Hard and soft drinks during the tours.
Tips and all other expenses which is not include on Cost Include section.
Trip Map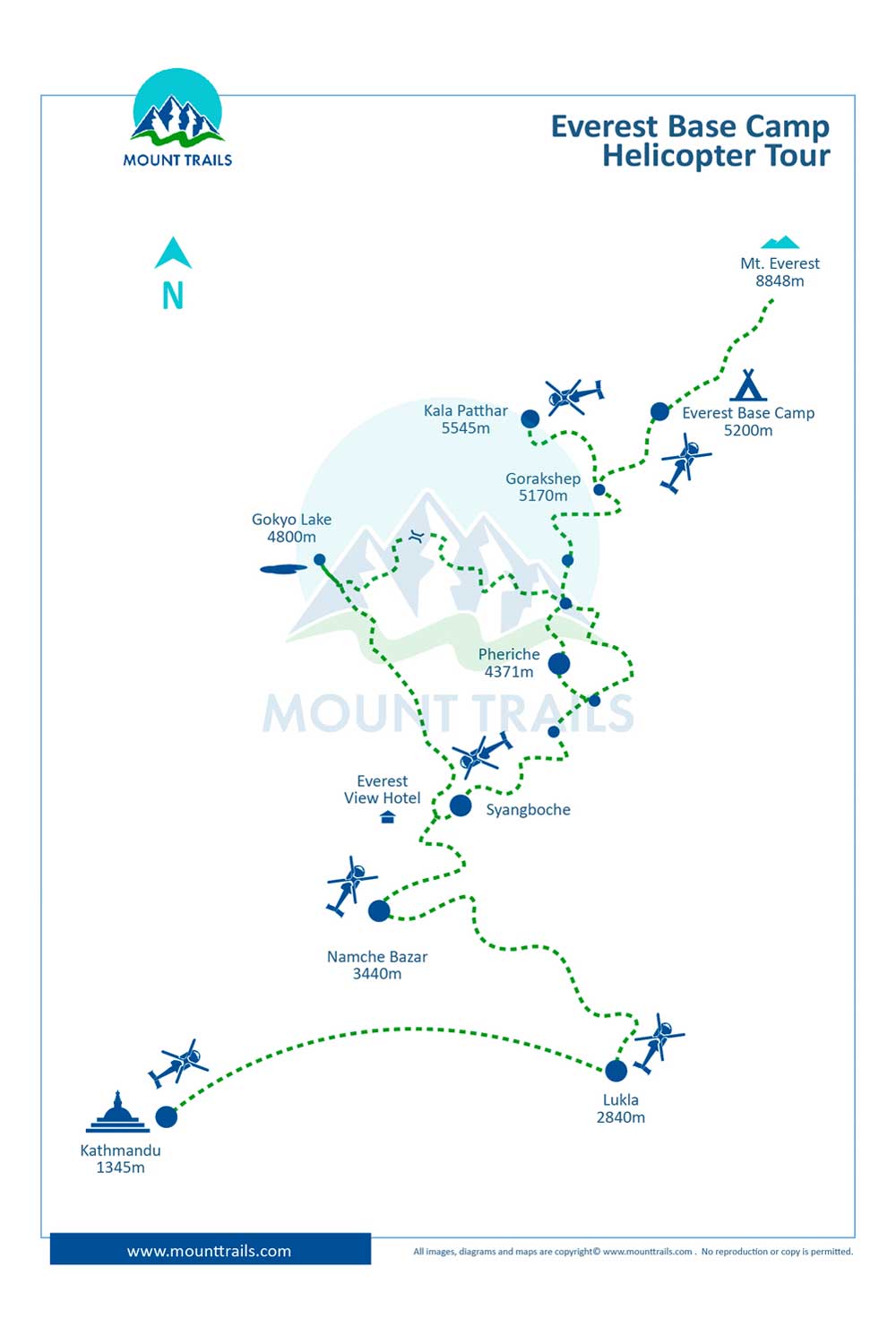 Useful Info
Best Time to Travel
The best time to take this trip is from September to April. Although spring and autumn are Nepal's popular tourist seasons, a helicopter day trip in the winter guarantees equally clear views that will have you mesmerized. However, being the monsoon season the months of June, July and August are not recommended.
Trip Start Dates
We will organize this trip on the dates requested by you. Please contact us for your customized departure date.
Additional Information
Our website contains as much information as possible about this trip. However, if you wish to discuss any aspect of this trip or your suitability for it please contact us by email.
Trip Note
How safe is Everest Helicopter Tour ? 
Everest helicopter tour is a commercial helicopter flight tour to Everest base camp and Kalpatter. This Tour is a high altitude flight tour in Nepal to show you highest Mountains in Everest region. We use a powerful helicopter for your tour to make our customer safety. If the weather is not supporting to fly or any technical error, the flight won't be flying over. Everest Base Camp helicopter tour wouldn't be start to flying from Kathmandu with any type of pressure incase of bad weather. 
Clothing And preparation for Everest Helicopter tour
For Everest Helicopter Tour there is sunshine most time but if there is Cloudy at that time It will be freezing cold. So you will need following things on the flight.
 Windproof Down jacket and sunhat
 A bottle of water and Toilet Paper
 Sunscream and sunglass
 Camera and mobiles
 Your passport and passport copy
What is the weight limit of Everest base camp and kalapather helicopter tour?
For Everest base camp helicopter tour weights limit in total will be 500 KG. So on Everest helicopter tour,  max is 5 people. Helicopter tour capacity is decided by the weight of person on your trip. Have to make 500 kg in max weight in your Everest base campand Kalapather helicopter tour. So know your weights is very importance when you on board. 
Helicopter flight with maximum number of 5 pax from Kathmandu and if there is single, double, up to 3 pax, the helicopter will be direct flying to Everest base camp (kalapatter). If there will be more than 3 pax (meaning 4 pax, or 5 pax).  The Helicopter flight will be land at Pheriche and then one more shuttle for Everest base camp flight tour with landing Kalapatter (Due to the weight limit control for high altitude we should manage it before your flight for your safety)
Does weather effect of Everest Base Camp Helicopter Tour?
Yes, Weather will effect for Everest Base Camp Helicopter Tour. Good weather and clear visibility is mandetory in mountain for helicopter tour around himalayas as well as the best view during your flight. So sometimes the flight can be a delayed bit because of weather. And we will suggest you the best time and best way to explore your trip to Everest Base Camp by Helicopter.
What is the age limit of Everest base camp helicopter tour in Nepal?
Everest base camp helicopter tour is one of the commercial flight to Everest regions. it is an easy and comfortable helicopter tour with luxurious way. We will give first priority to health and safety of yours. If incse if difficulty of our clients regarding health, we will try to the helicopter will stop and then flight back quickly as much as possible. So that we will recommend this Everest Base Camp Helicopter tour for any age group.