Destination:

Nepal

Meals:

Breakfast, Lunch and Dinner

Transportation:

Private Vehicle

Accommodation:

Standard Hotel Basis

Max. Altitude:

1250

Min. Group Size:

02
Highlights
Experience sustaniable Eco and Ethnic local village culture
Typical Nepali village life with taste of local foods
Beautiful landscape, lush hills and mountain views.
Pristine panaroma mountain views including Annapunra, Dhaulagiri, Manaslu and langtang ranges.
Riepe suits both the active and the idle hikes along the east-west ridge, the stunning views from idyllic spots created by nature for yoga and pilates, or just that book-to-finish, and the simplicity of just being here. 
Riepe Village is an authentic village let you to observe the local life and traditional, interact with local people and with your hosts, immerse in their culture and daily lifestyales, learn the local Nepali language, participate in the agricultural lifestyle, and observe the local festival. In the warm heart of Nepal, on a terraced hillside, where the Marsyangdi meanders below and where the views of the high Himalaya are utterly spectacular, there is a small cluster of farms that forms a beguiling village.  Here the almost forgotten simplicities of yesteryear are being revitalised. And here, awaiting the genuinely responsible eco traveller is Riepe, a small rural community quietly focussing on the future.  
Nature has blessed these Himalayan foothills, life has been wholesome and good and generations have lived here in harmony. Yet, elsewhere in the region, the children of highland folk are migrating and many villages are already emptying, houses and small-holdings stand eerily vacant, causing the tenor of the ancient ways to falter.  But not so in Riepe. This village really stands out for awesome views of Manaslu and the Annapurnas, for the pure freshness of the air and the wonderful bounty of nature here at 1,250m, for the charming homes linked by ancient pathways, and, not least, for simple, genuine hospitality.  
The village of Riepe is spoken of as growing the future by reclaiming the essence of the past. Now in year four, Riepe's coffee and avocado projects combine with more traditional produce to form a patchwork of niche agricultural enterprises. At the same time, Riepe has a growing reputation for extending a very warm welcome to visitors; for this place of great natural beauty is also so comfortable and relaxing. The eight guest rooms are really charming and all are aligned for the best mountain views. And each one has up-to-date en suite facilities. 
Trip Cost Details
Cost Include
 Arrival pick up and departure transfer from international airport.
All land transfer by private/ public vehicle as per mention on the itinerary. 
City Sightseeing tour escorted by city guide as per itinerary
Local meal (breakfast, lunch and dinner) while in Riepe Village
3 nights on bed and breakfast in Kathmandu.
Accommodation in Riepe village homestay hosted by local family
kathmandu- Dumre and Dumre to kathmandu by regular tourist bus.
Dumre - Kalimati - Dumre by private transportation.
Tour guide during the the trip and all his expenses. 
Farewell Dinner
All Government and local taxes.
Cost Exclude
International flights and Nepal entry visa.
Personal expenses such as laundry, telephone calls, bar bills and snacks
Travel insurance ( which should cover any kind of lost, damage, delay and cancelation ) 
Lunch and dinner in Kathmandu
Costs arising from unforeseen events outside the control of Mount Trails.
Tips and gratuities (crew will expect the tipping )
Any other personal and non personal expenses which are not included in our cost includs secation. 
Trip Map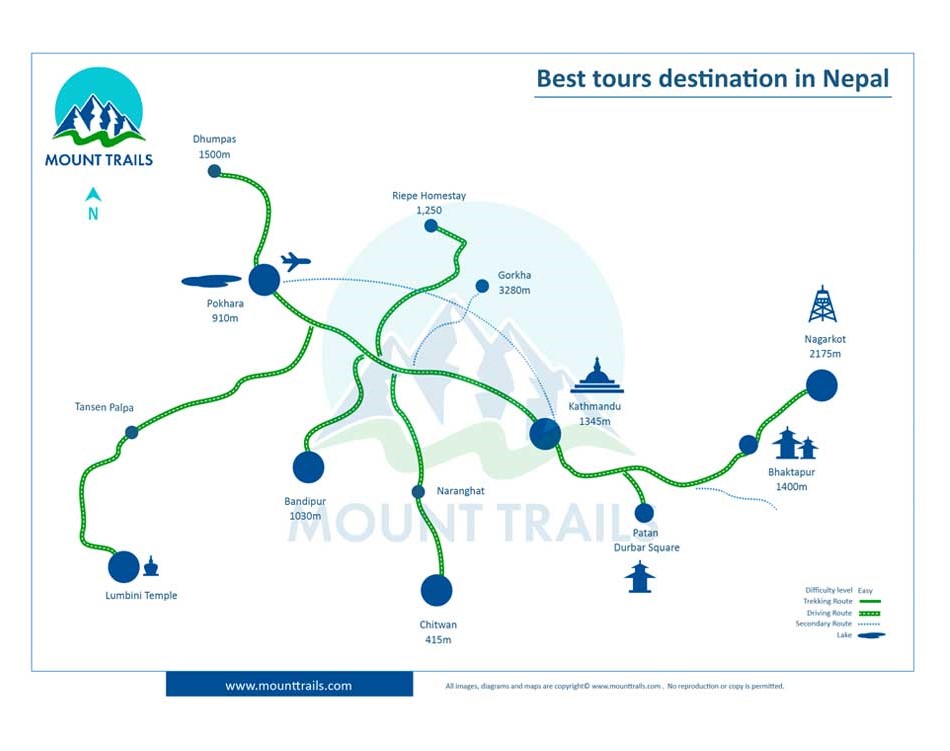 Useful Info
What Makes This Trip Different? 
Mount Trails believe in the quality services with great vlaue to our guests.  Your safety and satisfaction is our concern. We are a team of professional, experienced, well trained and licensed local guides who knows the destination much better than others. Not only this but also we give benefits the local communities and helps to conserve natural resources which reduced in costs and consumption.
Mount Trails works for social causes with some non-profit organization http://letsgocool.org concerned with environmental conservation and preservation includes Orphan children who need better education and the better life. We are supporting for the cause with some of our profits to a certain organization so that we can make their life better and bring happiness in thier life. We believe that education and healthy children make more stable and better future of Nepal. For donation, Sponsorship or any kind of Voluntourism, please contact to our orginization at - [email protected]. 
Trip Note
Accommodations
You will get deluxe or standard hotel during your tour around kathmandu and Bandipur but in Ripe village will be on homestay basis. All accommodations are on a twin-sharing basis. You can feel the natural beauty of the place through the serene hotel in a quiet environment away from the city pollution in Bandipur and Riepe Village. You can upgrade your room and hotel with a reasonable extra charge if you want luxury hotel during your stay in kathmandu and Bandipur.
Meals
During Ripe Homestay Tour, we serve you a breakfast at hotel and first day welcome authentic local food with cultural taste. Firstly, welcome embraces the refreshments after you reach the arrival destination, Kathmandu. Secondly, you can enjoy the traditional Nepali cuisine that is a blend of rice, lentils, vegetables, and pickle. We respect and provide the choice of vegetarian or non-vegetarian food. Lastly, breakfast consists of organic tea or coffee.
During your stay in Kathmandu and Bandipur, lunch and inner will be excludes but in Ripe Village  will be on full board basis. You can explore the multiple choices of cuisines in Nepal without being bound by the travel agency. However, you can choose meals according to your preferences excluding the provision at your own expense.
We can also includes lunch and dinner for the minimum amount of extra USD 20 per person per day for city tours.
Physical Condition & Experience Requirements
Nepal Tour does not require any experience. On the itienrary when we go for sunrise or jungle walk than we walk short distance only. This trip is suitable for any age group who is an enthusiast on the tour for a meaningful trip. In spite of this, the children and elders are to be under the guidance of their guardian. However, the traveller must specify any kinds of sickness, diseases or phobias before the trip because Mount Trails believes every traveller needs to be under perfect care and guidance to enjoy the trip with the best convenience possible. 
Best Time to Travel
You are welcome to the Riepe Village Homestay Tour any time of the year. However, it is suggested that you visit in the spring season of March to May or September to November. You can enjoy the fresh air and clear mountain view and sunrise. During September- November, you cherish additional boost as the biggest occasion of Nepal that lasts a month, Dashain and Tihar lie in between this time of the year. Likewise, you will be able to view a lighted city that will warm your hearts at night of Tihar festival in Autum season.
Additional Information
Around kathmandu, you will be doing sightseeing around wonderful UNESCO listed world heritage sites. All four-heritage sites are located in Kathmandu within the periphery of 5 km distance from Thamel. You will visit ancient temples of 12th to the 18th century. Highlights of temples, stupas and monasteries around the the city of kathmandu. If you are interested in customized trips, please feel free to contact us.