Destination:

Nepal

Meals:

Breakfast, Lunch and Dinner

Transportation:

Private Vehicle

Accommodation:

Local Mountain Lodge

Max. Altitude:

1300

Min. Group Size:

01 Minimum - 10 Maximum
Highlights
Experience sustaniable Eco and Ethnic local village culture
Typical Nepali village life with taste of local foods
Beautiful landscape and scenic drive along the bank of Trisuli river. 
360 degree pristine panaroma mountain views including Annapunra, Dhaulagiri, Manaslu and langtang ranges.
A superb exploration of village life in remote Nepal with stunning mountain retreat
The magical view of Himalaya like Annapurna range, Manaslu and more Informative sightseeing of Newar cultural village at Bandipur and Magar community at Ramko
Bandipur Village Homest Stay Tour escape the hustle and bustle of vibrant city Kathmandu and have a glimpse of rural Nepal at Bandipur.
Bandipur Village Homestay Tour takes you to the small charming hilltop village located on the way from Kathmandu to Pokhara at an elevation of (1,030m) on a mountain saddle (Mahabharat range). Bandipur is famous for homestay tour in Nepal which is rich in Newari culture with exotic hiking route. Bandipur village homestay tour is an exotic tour into the picturesque town nestled in the lap of Himalaya, a land enriched with natural beauty and cultural hospitality. Explore delightful edifices and heady mix of culture, history, tradition, art and incredible landscapes during this neo-classical tour to Newar cultural village Bandipur.
Bandipur village hiking is best to explore some of most beautiful and remote place of planet in different ways, accommodating in village that benefit directly from your presence. With the incredible 18th century architecture, dense traditional house in street line, absence of motorized vehicles and culturally dressed people makes you feel that you have been pushed into different era. Bandipur in fact, is a living museum, a beautifully preserved village bustling on farming and trading.
After sightseeing in Bandipur, we hike up towards Ramko to observe the culture and tradition of Magar community. If weather permits, we can have an astounding view of massif Annapurna range and Manaslu. During our tour in kathmandu, we will be exploring around UNESCO heritage sites and other tourist attraction.
Best Time To Travel
The best time to visit Bandipur is from February through April, October and November. In this period you have a pleasant temperature and little precipitation. The highest average temperature in Bandipur is 79°F in June and the lowest is 60°F in January. Maximum tourist flow in Bandipur in the Spring season ( end of february to end of May). In this season, the skies are clearer and the views are breathtaking. The temperature during this season ranges from 21° C to 32° C. In the winter, the number of visitors is lower.
Trip Cost Details
Cost Include
 Arrival pick up and departure transfer from international airport.
All land transfer by regular tourist bus and public bus as per mention on the itinerary. 
City sightseeing tour escorted by city guide as per itinerary
2 nights accommodaiton in kathmandu on bed and breakfast basis
Home stay during your stay in Bandipur for 2 nights.
Tour guide during in bandipur to explore villages.
Local meal (breakfast, lunch and dinner) while in Bandipur
Regular tourist bus back to Kathmandu.
All applicable government taxes and Mount Trails service charges.
Cost Exclude
International flights and Nepal entry visa.
Personal expenses such as drinks, postage, laundry
Lunch and dinner in Kathmandu
Tips and gratuities (crew will expect the tipping )
Travel insurance ( which should cover any kind of lost, damage, delay and cancelation ) 
Costs arising from unforeseen events outside the control of Mount Trails.
All extra services if required (except motioned in 'The Price Include' section)
Trip Map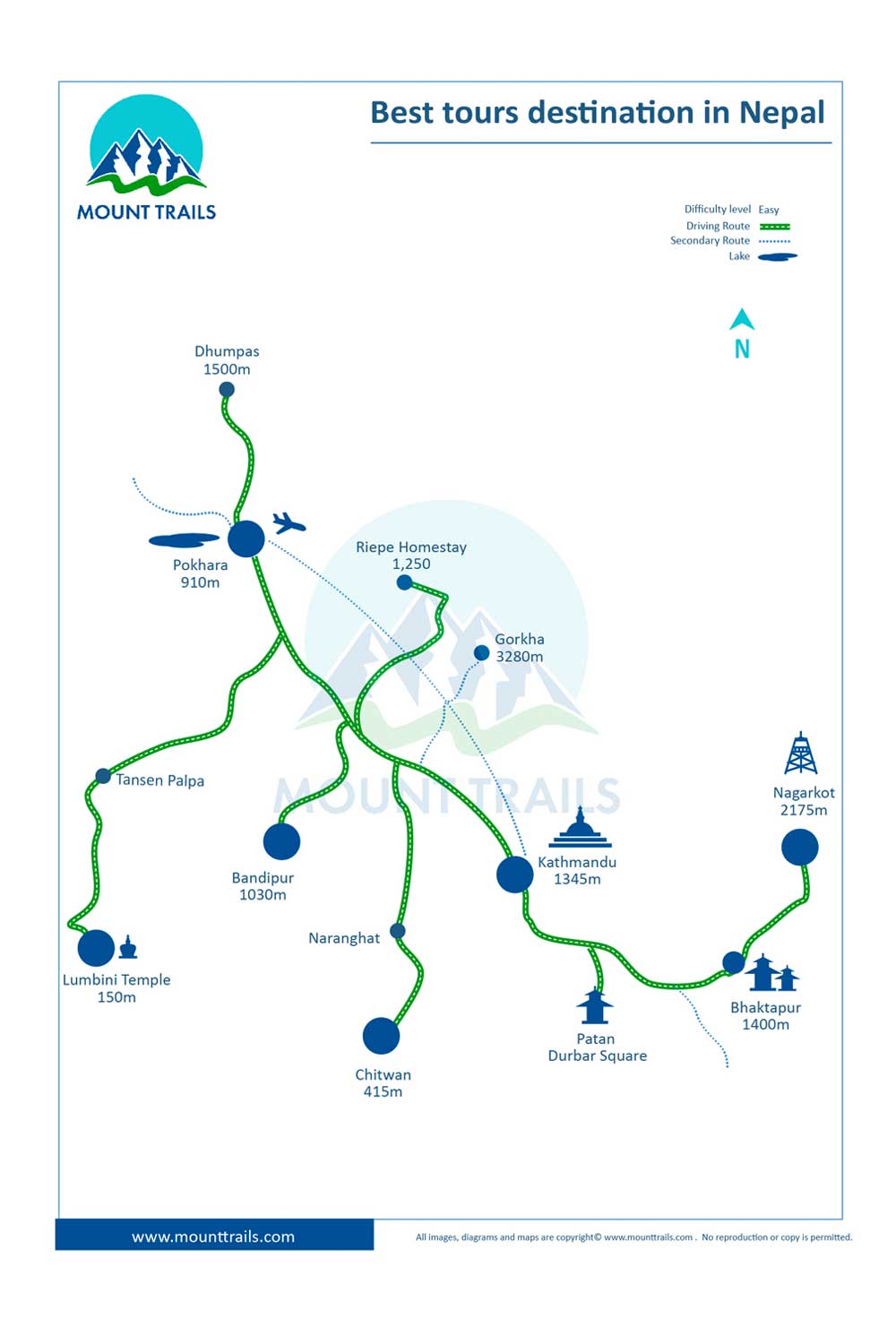 Useful Info
What Makes This Trip Different? 
Mount Trails believe in the quality services with great vlaue to our guests.  Your safety and satisfaction is our concern. We are a team of professional, experienced, well trained and licensed local guides who knows the destination much better than others. Not only this but also we give benefits the local communities and helps to conserve natural resources which reduced in costs and consumption.
Mount Trails works for social causes with some non-profit organization http://letsgocool.org concerned with environmental conservation and preservation includes Orphan children who need better education and the better life. We are supporting for the cause with some of our profits to a certain organization so that we can make their life better and bring happiness in thier life. We believe that education and healthy children make more stable and better future of Nepal. For donation, Sponsorship or any kind of Voluntourism, please contact to our orginization at - [email protected]. 
Trip Note
Top things to do in Bandipur Village
Surprisingly, there are unlimited things to do in Bandipur. The first one is to relax and enjoy the reprieve from the bustle of Nepal. The second are all these fun activities:
Visit the Monk and the tiny Buddist Monastery at the Boudha Sadan Shakyamuni Monastery  (also just known as Bandipur Monastery)
This was one of our most favorite days during our 2-month stay in Nepal. We took a walk up the Buddhist monetary by following the steps just past the main square. The Monk who resides there invited us in for tea to share his story about building the monastery and his expansion plans for the temple, which resulted to spending the whole afternoon there. He left us to meditate in the temple and sit on the steps of the temple to admire the views of the snowy peaks of the Himalayas across the horizon. This is one of those once-in-a-lifetime moments to get up close and personal, an opportunity to connect with a Monk and ask anything you want.
Climb up to the Thani Mai
This is a hill above the town with a well-marked staircase and hand-railed path. It is best to climb in the early morning sunrise or afternoon sunset. At the top is the Thani Mai temple, a small Hindu temple, which is not a significant attraction but a great place to visit for the views. For an even better view, you can continue to hike across the mountain range to the Gurungche Hill to get a full 360-degree view of the entire area. The hike is a comfortable, mildly steep walk up the stairs for about 30 minutes.
Explore and climb through the dark Siddha Cave
Hike down the steep stairs halfway down the Bandipur village hill to reach the Siddha Cave, the largest cave in Nepal measuring 437m deep and about 50 metres high. A guide is required to lead you through the cave. The guide, which is at a small cost, carries a flashlight and leads you to descend into deep caverns on ladders and swing through sections with ropes. The cave is full of stalactite structures. You can hear the sound of whistling bats high above the cavern walls. Along the way, you will see local worship and meditation areas and a swimming pool during the rainy season.  Good shoes are necessary. Bring your own headlamp. This adventure isn't for the faint of heart.
Admire and wander the temples
There are several beautiful Hindu temples scattered throughout the town. You can explore on your own to find them, such as the Bindebasini temple, a small temple located on the north part of the main street or bazaar. The temple is known to be a dedication to the goddess Durga. Intricate stone carvings line the temple and along the historic wooden door. The Padma library, a striking 18th-century building with Newari-styled carved windows and beams, is facing the temple across the square.
Shop the Bandipur Old Bazaar – Buy t-shirts, Newari gifts, and snacks. The benefit of no haggling is that you can wander to your heart's content. Hike along the countryside to whichever direction you choose and you are going to find interesting homes and temples.
Paragliding 
There is a paragliding takeoff area just at the outskirts of Bandipur main town. Your guesthouse can arrange a glide for you, so inquire when you arrive.
Silkworm Farm
 Over here, you can see how silk is produced. The farm has orchards of mulberry plants grown for worm food – the worms themselves are reared indoors, usually from August to December and March to May. But you can visit them at any time, and there will be a staff member on hand to explain the process.